Advanced infrastructure is critical for road operators to manage the rapidly growing traffic volumes. For example, road monitoring is a key component of road infrastructure. Intelligent monitoring can provide operators with accurate real-time traffic information for the entire monitoring route, which is critical to minimizing congestion and reducing travel times.
Connectors are an integral part of intelligent monitoring. To achieve long-term and safe monitoring, connectors used in the monitoring system need to be waterproof, high temperature resistant, easy to install and maintain, and able to handle extreme weather.
This article briefly introduces the traffic monitoring system and WEIPU's connector solutions. Follow up and keep reading!
The Overview of the Road Monitoring System
The road monitoring system can provide the most intuitive traffic information on site. It is also the basic guarantee for the implementation of accurate scheduling. Set up monitoring points at road intersections and key places by using connectors to connect front-end equipment. The video images are then transmitted to the traffic command center via fiber optics. With these processes, the center devices can store, process, and publish the information. At the same time, the management personnel can make timely judgments and adjustments on traffic violations, jams, accidents, and other emergencies.
Application of Connectors in Road Monitoring System
The traffic monitoring system consists of numerous devices, including a control host, vehicle detectors, digital cameras, ground-sensing coils, video processors, copper cables, fiber optics, office communication modules, traffic data collection equipment, conflict monitors, modems, etc. Many of these require a connector to assemble, such as vehicle detectors and digital cameras.
Why Road Monitoring Needs High-Quality Connectors
Road monitoring can regulate and record traffic situations in real-time, providing evidence for traffic accidents. Regarding road monitoring, the top priority is the stability of the equipment, ensuring its normal operations in various extreme weather, including heavy rain, high temperature, and hail. Therefore, the system requires robust connectors. WEIPU's circular connectors are undoubtedly the optimal choice. The following are the advantages of WEIPU's SP series connectors:
Durability
The product is made of PC and PPS material, which can withstand shock and mechanical stress. In addition, it is specially designed to meet the requirements of harsh environmental conditions and has an I65 rating.
Strong Protection
The materials of WEIPU's SP series connectors are tougher than that of the PA materials. For example, its shell material has reached the V-0 fire rating and can adapt to high temperatures of 40 to 85 degrees. In addition, our products are waterproof and provide effective protection for the equipment in harsh environments such as dust, rain, snow, and heavy pollution.
High-Cost Performance
Fast assembly helps to reduce installation costs during the investment phase. In addition, the plug-and-play connection method does not require special tools for maintenance, which is convenient and efficient.
Wide Range of Application Scenarios
In addition to intelligent monitoring equipment, our solution can also apply to high-speed toll stations, solar energy systems, the Internet of Things, and other related industries.
Why Choose WEIPU as Your Supplier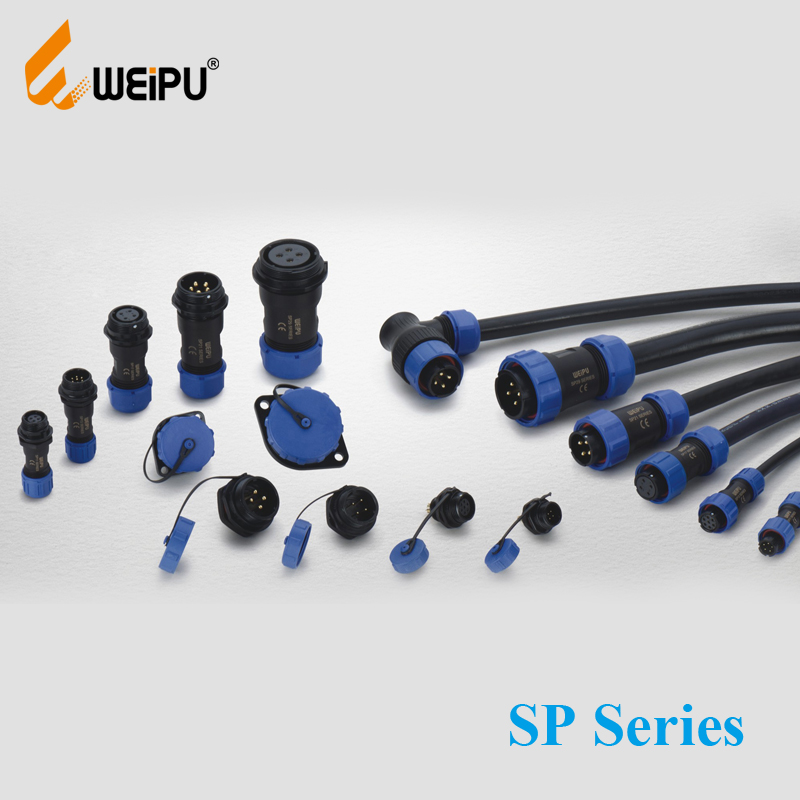 Established in 1996, WEIPU focuses on developing connectors and industrial plugins, providing customers with safe and reliable one-stop power supply solutions. WEIPU is one of the world's largest manufacturers of industrial connectors, with modern workshops occupying over 50,000 square meters.
WEIPU has strong research and development capabilities and has formed a complete design, production, quality inspection, and service system. For example, we can develop various industrial connectors according to customers' special requirements. In addition, our products can meet RoHs, CE, CSA, and UL certifications.
If you are looking for a reliable and excellent connector supplier, feel free to contact us.