With the continuous improvement of living standards and transportation networks, rail transit has become a popular choice for people to travel. On the other hand, establishing a multidimensional, diversified, and scientific transportation system is conducive to accelerating urbanization and promoting sustainable development.
Urban rail transit has a large transportation capacity due to high-density operation, short time intervals, high running speed, and multiple carriages. According to statistics, many subways can carry more than 1 million to 12 million passengers each year per kilometer, such as Moscow Metro, Beijing Subway, etc.
The heavy duty connector is a new type of connector widely used in heavy industry and industrial applications. Compared with traditional connectors, heavy duty connectors are more robust, waterproof, explosion-proof, and easy to wire. Therefore, they have gained high popularity in rail transit. On the other hand, heavy duty connectors have stringent environmental, mechanical, and electrical requirements due to their application scenarios and frequent uses.
This article will briefly introduce several rail transit systems and WEIPU's heavy duty connector solutions; keep reading!
Application of Connectors in Rail Transit System
Heavy duty connectors are core components of rail transit. It has wide applications in various railway systems, including the braking system, cabs, steering system, electrical control cabinet, gating system, air conditioning system, lighting system, carriage connection system, traction system, etc.
The heavy duty connector is used to meet the various data and signal transmission needs in the railway sector. For example, they provide support in passenger control, Internet and WiFi connectivity, display management, lighting control, and diagnostic support for key functions such as brakes, motors, door control, etc.
Why Rail Transit System Needs Heavy Duty Connectors
Ensuring the health and safety of operations is the top priority for rail transmission. In addition, the rail transit is shifting towards datamation and intelligence. Therefore, it requires connectors to meet various functions, including intelligent monitoring equipment, lighting system, disinfection system, etc. Last but not least, because rail transmission is susceptible to severe extreme weather such as high temperatures and hail, connectors require higher performance to accommodate some emergencies. Therefore, the rail transit system requires high-quality connectors, and heavy duty connectors are the optimal choice. In response to the market demand for high-quality heavy duty connectors, WEIPU has launched corresponding connector solutions. The following are the advantages of WEIPU heavy duty connectors:
Sturdy and Stable
Our products are cast aluminum or flame retardant thermoplastic materials that can withstand impact and mechanical stress. The connector is qualified for I65 of protection. In addition, our products provide effective protection for the equipment in harsh environments such as sand, rain, snow, and heavy pollution.
Waterproof and High-Temperature Resistance
WEIPU's heavy duty connectors are waterproof and resistant to high temperatures. In addition, our products are able to operate in harsh environments and withstand extreme weather.
High Performance
WEIPU's heavy duty connectors run fast and have high adaptability. Heavy-duty modular connectors allow users to configure the precise interface required by the application in a single connector to reduce the number of interfaces in many rail applications. Therefore, the product realizes the modular structure of each function template effectively.
High-Cost Performance
Our products can achieve fast assembly, which reduces installation costs. In addition, the plug-and-play connection does not require special tools for maintenance, which is convenient and quick to maintain.
The above advantages of WEIPU heavy duty connectors completely meet the various rail transit needs, ensure operational stability and improve installation and maintenance efficiency. In addition, WEIPU has gained ISO/TS 22163:2017 International Railway Industry Standard Certification (IRIS) in 2021, the international norm for quality management systems in the railroad sector. It ensures high-quality standards in facilities, operating equipment, and services.
Why Choose WEIPU as Your Supplier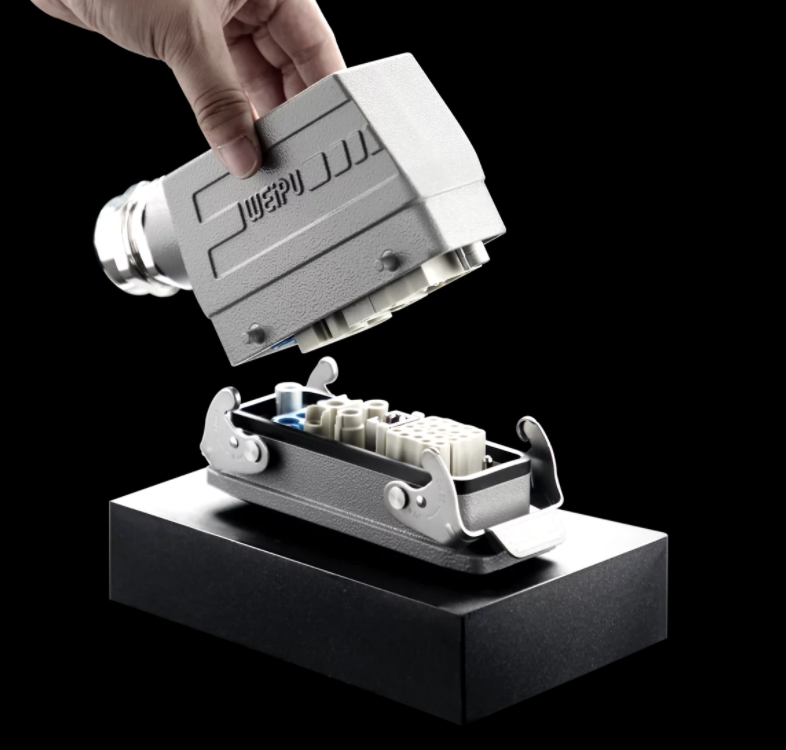 Established in 1996, WEIPU has concentrated on the research and development of connectors and industrial plug-in devices to provide a safe and reliable one-stop power supply solution. Nowadays, WEIPU has become one of the largest industrial connector manufacturers in the world, forming a complete system of design, production, quality inspection, and service.
WEIPU has a modern workshop of more than 50 thousand square meters. Our products have passed the ISO9001 quality management system certification.
WEIPU has a strong R&D capability and can develop various industrial connectors according to customers' special requirements. In addition, our products can meet RoHs, CE, CSA, and UL certifications.
Feel free to contact us if you need a reliable, quality-assured connector supplier.