Application of Connectors in Stage Lighting and Sound
Demand for durable connectors remains high in many industries, and the entertainment industry is no exception. For example, stage lighting is an important part of performance space and artistic creation, and a comprehensive visual environment lighting design is carried out for characters and specific scenes.
Whether it's concerts, sporting events, or filming, rugged industrial connectors play a vital role in today's entertainment landscape. These connectors must be able to withstand the challenges of harsh conditions commonly found in outdoor applications while maintaining a reliable connection to meet audience expectations.
In this article, we will mainly discuss industrial connectors for stage equipment. Follow up and keep reading!
Introduce industrial plugs and sockets
Industrial plugs and sockets connect to a power source with a higher voltage and current rating than household plugs and sockets. They are typically used in polyphase systems with high currents. The following are some of the features of industrial plugs and sockets:
Anti-electric shock design
The ground pins of industrial plugs and sockets are longer than the positive and negative pins, which means that the application is always grounded before power is applied.
Industrial plugs are made of high-quality insulating materials to provide personnel protection.
Household plugs and sockets are generally 10A, which can barely carry 4000W of power applications. In contrast, industrial plug and socket wires have a cross-sectional area of 1.5mm2, which can easily carry more power.
The maximum insertion time for household plugs or sockets is about 4500-5000 times. However, the average lifespan of industrial plugs and sockets is over 10 years, and the maximum number of inserts allowed is 100,000.
Connector requirements
Industrial connectors in the entertainment industry have various uses in many different locations, from outdoor concert and sporting event venues to pep filming locations. Demands for connectors include signal, data transmission, and power, which can be used for lighting, sound systems, speakers, effects, and audiovisual transmission. These factors play a huge role in audience satisfaction, as light shows, visuals, and high sound quality are paramount.
On the other hand, industrial connectors must withstand any harsh outdoor conditions that may exist outside, such as wind and dust. In addition, outdoor connectors must be UV resistant to prevent degradation from repeated exposure to sunlight.
Regardless of the environment, entertainment industry connectors must make secure connections and protect contacts. For example, broken contacts tend to be a problem when making quick connections and disconnects. Therefore, connectors must be durable and support easy field installation and quick locking to minimize installation and removal time and labor.
WEIPU Industrial Plug Socket Solution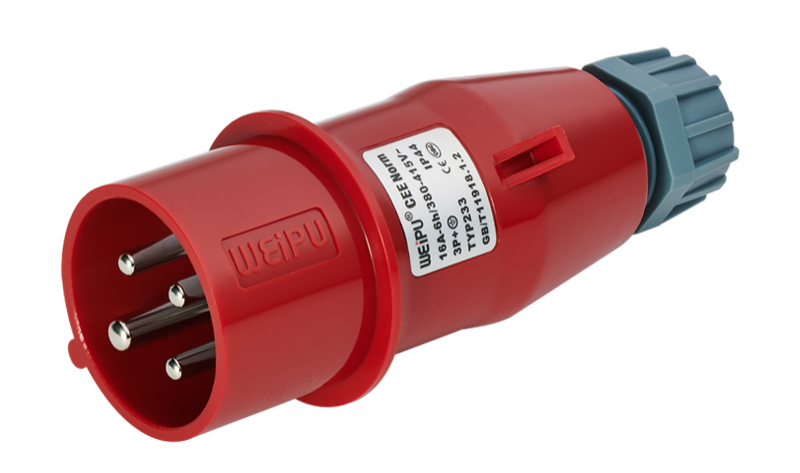 In the entertainment industry, customer satisfaction is paramount. Therefore, lighting, audio, and vision must operate reliably regardless of the conditions. WEIPU Industrial Plug Socket is durable and high-quality, suitable for medical equipment, intelligent manufacturing, stage equipment, and other fields. In addition, WEIPU Connector will participate in the "International Lighting and Sound Exhibition" every year, providing connector services for many performances. For example, we have provided connector solutions for the "Beijing Olympic Games Opening Ceremony", "National Day 60th and 70th Anniversary Tiananmen Square Party Lighting Project", and "The 26th Universiade Supporting Project".
WEIPU CEE PLUG is designed with high material toughness and corrosion-resistant rubber. In addition, the IP rating of CEE PLUG is IP44, and the product conforms to international standards. On the other hand, the application of the CEE PLUG includes workshop, convention center power system, light and sound equipment, metro power system, etc. Below are our TYP231 Products:
Why choose WEIPU
WEIPU is one of the world's largest manufacturers of industrial connectors. Founded in 1996, the company specializes in producing industrial connector equipment to ensure safe and reliable power supply solutions.
WEIPU has a strong R&D capability and can develop various industrial connectors according to customers' special requirements. In addition, our products can meet RoHs, CE, CSA, and UL certifications for quality requirements.
As a leading professional connector manufacturer with 25 years of experience in the connector industry, WEIPU consistently provides a wide range of high-quality circular connectors. We strictly monitor all production processes to ensure high-quality connector products.
If you are looking for a reliable supplier, contact us.