Application of Heavy-Duty Connectors on Industrial Robotic Arms
With the continuous progress of science and technology, industrial automation is booming. In this environment, the applicability and accuracy of robotic arms have been greatly improved. As a result, we can see these devices applied in various industry.
The connectivity solution for industrial robotic arms has always been a hot issue. The robotic arm needs to achieve fast, precise and stable, so we can't ignore the importance of connectors. Therefore, we need to choose the proper connector to lay a firm foundation for the subsequent production work. However, the traditional connector has been unable to meet the current industrial demand. Fortunately, heavy-duty connector solutions can deal with the problem.
This article will briefly introduce the industrial robotic arms and WEIPU's heavy-duty connector solutions, keep reading!
Introduce Industrial Robotic Arms
A robotic arm is an automatic control device that imitates the functions of a human arm to complete various tasks. The device can perform specific tasks quickly, precisely, and effectively. Thus, robotic arms are widely used in industrial production, manufacturing, machining, and assembly sectors. There are five major types of industrial robotic arms:
The cartesian robot arm is also commonly known as Gantry Robot Arm. This industrial robotic arm has three mobile joints to achieve linear motion in three-dimensional space by sliding on three vertical axes (x, y, and z). In addition, this type of robotic arm has an extra wrist joint for rotational motion. With high positional accuracy, the cartesian robot arm can be utilized in most industrial applications, such as picking and placing.
Selective Compliant Assembly Robot Arm(SCARA) can rotate in the X, Y, and Z planes. The biggest highlight of SCARA is the cylindrical housings with two parallel joints. On the other hand, SCARA robot arms are famous for their high speed. This type of industrial robotic arm is commonly deployed for assembly applications due to its specialization in lateral movement.
This industrial robotic arm is designed to mimic a human arm, using rotating joints to attach to the base. In general, the number of rotating joints is between 2 to 10. Each joint works independently, so the range of motion is very flexible. The flexibility and accuracy of articulated robotic arms make them suitable for application to a variety of tasks, including food packaging, arc welding, etc.
Parallel/Delta robot arms
The robotic arm consists of three slender parallel arms connected to an EOAT(End of Arm Tooling), forming a dome-shaped shell. Unlike other robotic arms located inside the arm, this type of industrial robotic arm is located above the arm. Delta robot arms are popular in the electronics and pharmaceutical industries due to their lightweight arms.
In general, cylindrical robot arm has at least one rotary joint attached to the base and one prismatic joint. But unlike the cartesian robotic arm, this type of industrial robotic arm forms a cylindrical coordinate system that performs both rotation and linear motion. With the special configuration, cylindrical robotic arms are suitable for simple applications, including transporting, picking, and placing.
WEIPU Heavy-duty Connector Solutions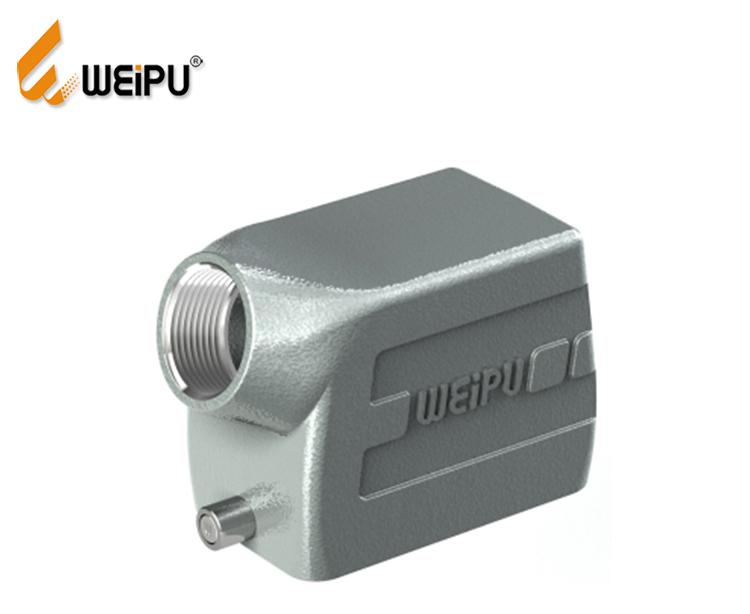 WEIPU Heavy-duty Connectors are designed to meet the requirements of harsh environmental conditions. The main application areas of the WEIPU Connector Solutions are industrial robotic arms, equipment manufacturing, industrial system building, and information and control technology.
WEIPU provides a complete connector solution for the industrial robotic arms that can easily meet various connection and space requirements. Below are two of the products:
WEIPU Heavy-duty Connector Solutions can fulfill the following requirements:
Robustness: Our products are made of cast aluminum or flame retardant thermoplastic materials and be powder-coated to withstand impact and mechanical pressure.

Safety: All the WEIPU Connectors are certified by RoHs, CE, CSA, and UL Concerning Quality requirements.

Suitability: Our products are perfectly adapted to the size of the robotic arms.

Simpleness: Our products are easy to set up and save installation time.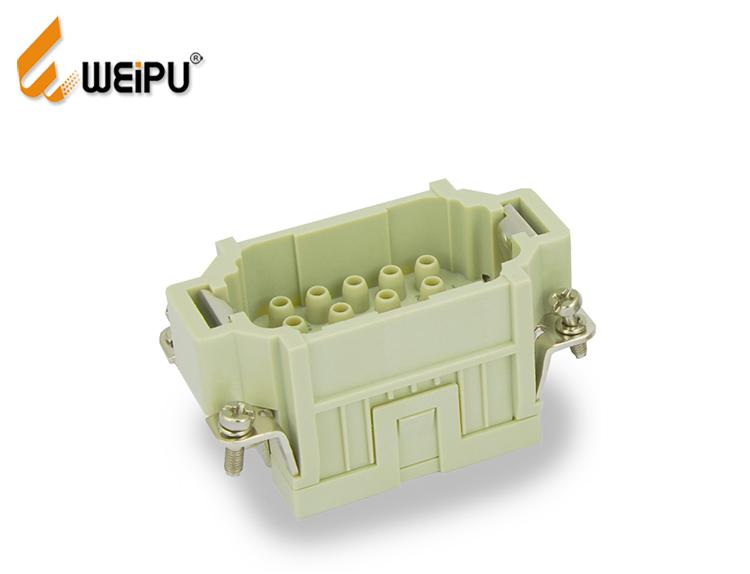 How WEIPU can help
WEIPU is one of the world's largest manufacturers of industrial connectors. The company has been specializing in the production of industrial connectors since 1996.  
On the other hand, we are the member of "National Electrical Appliances Standardization Technical Committees" and participated in drafting the national standard for industrial connectors GB/T11918-2014.
In addition, WEIPU has a professional design and R& D team of more than 50 people, aiming to develop high-quality and high-performance connectors.
If you are looking for a reliable supplier, please contact us.