5G supports consumers and businesses with high connection speeds, low latency, and large device capacity. From 1G to 5G, technological progress in each generation has promoted industrial upgrading and social development. 5G has also become an important new infrastructure to support the digital, networked, and intelligent transformation of the economy and society.
Connectors are one of the most overlooked electronic components. It is not as core as Wi-Fi or LTE but is the most important network communication component. This article will introduce the application of connectors in industrial 5G and list their advantages.
What is Industrial 5G
Industrial 5G fully interconnects people, machines, objects, and systems, and builds a production service system covering the entire industrial chain. It can help enterprises achieve the goals of reducing costs, improving quality, improving efficiency, and developing safety.
Compared with previous generations of cellular networks, 5G will have a peak data transmission rate of 20Gbps, 10-20 times faster than 4G. In addition, 5G uses low-delay communication to ensure the network delay is less than 10ms. Industrial 5G provides enough bandwidth for enhanced applications in industrial environments to transfer large amounts of data quickly.
Connectors application in Industrial 5G
The connector is an important link between the cables that carry the data and the devices that carry the information. In order to ensure the connector's quality, the selection, pretreatment, welding, testing, and other procedures of the connector are strictly controlled. High-speed data transmission advancements have led to innovations in connector design performance, size, and electromagnetic signal interference (EMI) shielding. Furthermore, 5G connectors are widely used in the signal transceiver of the base station to ensure that the base station can operate at high speed. Connectors can also be used in monitoring, fire extinguishing, power, and air conditioning equipment to help different industries, such as factories, medical, and aerospace, to operate more efficiently and safely.
Requirements for connectors in Industrial 5G
Connectors and signal integrity play an important role in 5G implementation. Because 5G uses millimeter wavelengths to send and receive data, data transmission rates will increase. The connectors of 5G networks should provide high performance, high data transmission speed, and enhanced signal integrity.
Apart from this, the 5G connector must ensure that the signal is intact and able to provide sufficient power for the device. Therefore, 5G connectors need to be efficient and reliable even under the harshest conditions.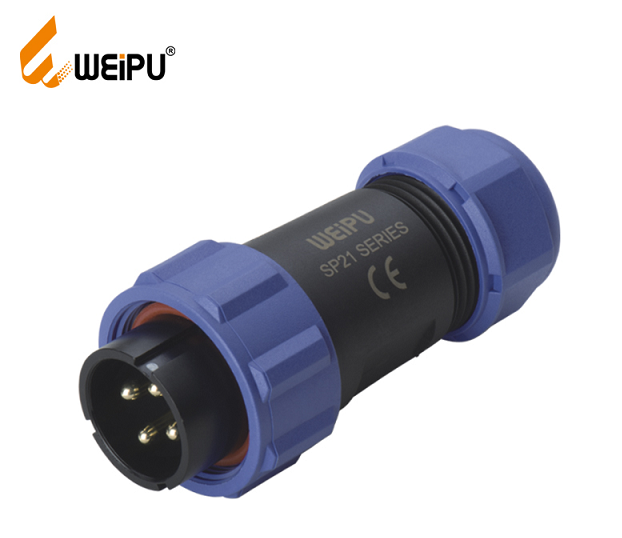 WEIPU solution
WEIPU specializes in high-performance standards and high-quality circular connectors, industrial connectors, and other products. WEIPU's SP2110P/S cable connector is an IP68 waterproof cable connector. IP68 is the highest level of dust-proof and waterproofing in the GB/T 4208-2017 Case Protection Class (IP code).
SP2110P/S cable connector uses the latest technology to help customers efficiently transfer power, data, and signals. Our connectors are designed with threaded connections for quick locking and ease of operation. The shell material of the connector is PC and nylon66, which has high fire resistance; The insert material is PPS, which can withstand temperatures up to 260°C.
WEIPU SP21 waterproof connector is designed for harsh indoor and outdoor environments and can withstand temperatures below -40°C to 85°C. In addition, WEIPU provides personalized solutions based on the data and needs of different customers. We have one-to-one professional pre-sales, after-sales service, and 24-hour online customer service to customize connector solutions for our clients.
Contact us for further information about cable connector solutions!