Due to the COVID-19 pandemic, there is increasing demand for medical devices such as diagnostic equipment, ventilators, thermometers, etc. At the same time, higher criteria are simultaneously proposed for equipment durability and safety. Therefore, medical devices need to be equipped with high-quality medical components, of which medical-grade connectors are the key parts.
This article will briefly introduce several medical devices and WEIPU's connector solutions. Follow up and keep reading!
Application of Connectors in Several Important Medical Devices
The ultrasound system generally uses standards-based architectures such as the CompactPCI bus or VMEbus. However, as backplane performance reaches the limits of standard architectures, the system requires connectors with improved performance and dependability. Also, connectors are required in the cable, power distribution system, module, card, etc.
The thermometer usually contains a pre-assembled cable with connectors, which eliminates the hassle of securing a single-strand wire into the head of the thermometer. Therefore, connections can greatly save time for calibration, assembling, and disassembling instruments. Another advantage of connectors is that instrument replacement can avoid incorrect wiring.
The multiple sensors and control functions of the ventilator require various discrete channels, including CPAP adapters, filters, hoses, etc. They all require safe and sturdy connectors to ensure the proper functioning of the ventilator.
Why Medical Devices Require High-Quality Connectors
Compared to industrial connectors, medical connectors require a higher standard. Because a substandard or mismatched connector can endanger the lives of patients and equipment operators. Therefore, connectors in medical devices must be able to withstand moisture, carry high voltages, optical links, fluids, power supplies, etc. Moreover, the materials of medical connectors need to be bacteria-resistant and withstand sterilization or disinfection.
Additionally, long-term durability is another key consideration, as some medical device components, such as ventilators and blood pressure monitors, must withstand thousands of insertions during their lifetime. Therefore, WEIPU's circular connectors are undoubtedly the optimal choice. The following are the advantages of WEIPU's SF series connectors:
Durability
The products are made of H59 brass chrome plated, brass gold plated, and PPS material with high rigidity, impact resistance and mechanical stress. In addition, it is designed for delicate high-end markets and harsh environments with an IP67 rating.
Security
WEIPU's SF series connectors have high precision and small error, making the equipment safer and more reliable. Moreover, it can adapt to high temperatures of 40 to 85 degrees. In addition, our products are waterproof and corrosion-resistant, providing effective protection in harsh environments such as heavy rain, dust, snow, and heavy pollution.
High-Cost Performance
WEIPU's connectors are low maintenance can be assembled quickly, and reduce installation costs. For example, the plug-and-play connection does not require special tools for maintenance, which is convenient and efficient.
Why Choose WEIPU as Your Supplier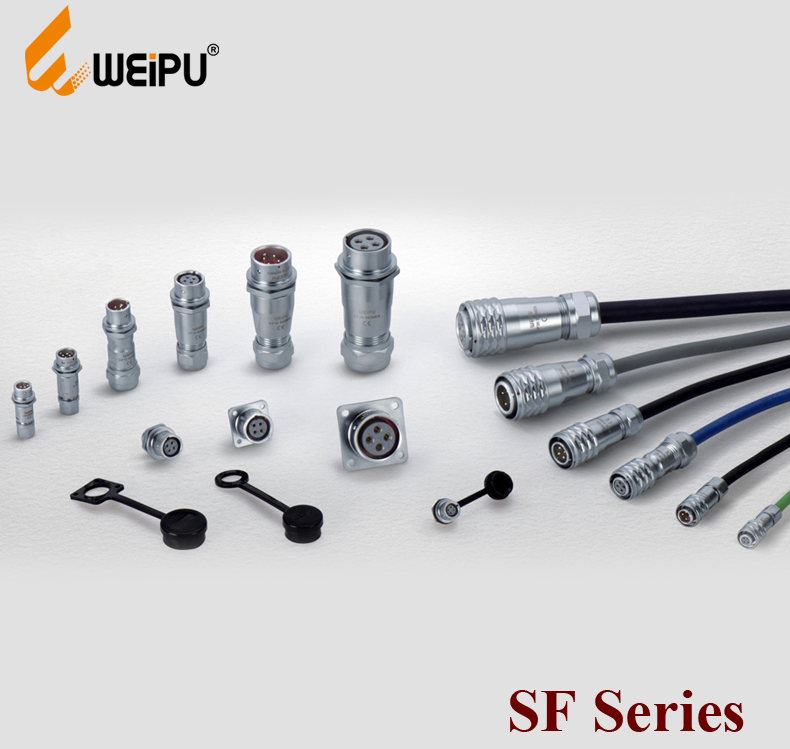 Established in 1996, WEIPU has become one of the largest connector manufacturers worldwide. WEIPU specializes in the R&D of connectors and industrial plug-ins, providing secure and reliable one-stop solutions.
WEIPU built up a modern workshop of over 50,000 square meters. The company has strong innovation capabilities, forming a complete design, production, quality inspection, and service system. For example, we can develop various industrial connectors according to customers' special requirements. In addition, WEIPU's products can meet RoHs, CE, CSA, and UL certifications.
If you need a reliable and professional connector supplier, feel free to contact us.