Industry 4.0 Applications & Connectors Solutions
Manufacturers are increasingly looking to integrate digital technologies to increase flexibility, improve efficiency, prevent unplanned downtime and accelerate production. In the fourth generation of the industrial revolution, new technologies were introduced to automate and simplify complex manufacturing processes.
Industry 4.0 has seen the rapid growth of factories equipped with high-performance industrial computers and intelligent robots. Under this condition, factories have greater flexibility by accelerating production. Industry 4.0 applications include nine technologies, some of which are already advanced by businesses and supply chains.
On the other hand, the popularization of connection technology has put forward new technical requirements for industrial connectors. For example, the connector solutions need to support various equipment applied in Industry 4.0.
This article will mainly discuss the definition of Industry 4.0, Industry 4.0 applications, and connectors solutions.
Introduce to Industry 4.0
In recent decades, Industry 4.0 has taken digital technology to a whole new level by introducing Internet of Things (IoT) connectivity, real-time data access, and cyber-physical systems. Furthermore, Industry 4.0 is an indispensable part of any company's digital transformation.
Industry 4.0 includes IIoT and smart manufacturing, combining physical production and operations with smart digital technologies, machine learning, and data to create a comprehensive, connected ecosystem for manufacturing and supply chain management companies. Industry 4.0 gives business owners greater control and visibility into every aspect of operations and allows them to leverage instant data to increase productivity, improve processes and drive growth.
Industry 4.0 applications
Big data is collected from various sources, from factory equipment and IoT devices to ERP and CRM systems. In addition, analytics powered by artificial intelligence (AI) and machine learning are applied to data in real-time and use insights to improve decision-making and automation in all areas of supply chain management.
Horizontal and vertical integration
The pillars of Industry 4.0 are horizontal and vertical integration. Through horizontal integration, processes are tightly integrated on the production floor, multiple production facilities, and supply chains. On the other hand, through vertical integration, all levels of the organization will be connected.
Cloud computing is an "important driver" for Industry 4.0 and digital transformation. It provides the foundation for most advanced technologies and provides businesses with the means to innovate.
Augmented reality is a core concept of Industry 4.0. With an AR system, employees can use mobile devices to visualize real-time IoT data, digitize parts, repair or assembly instructions, and training content.
Industrial Internet of Things (IIoT)
Most physical things in Industry 4.0 (devices, robots, machinery, equipment, products) use sensors and RFID tags to offer real-time data about their condition, performance, or location. This technology enables companies to run supply chains effectively, rapidly design and modify products, prevent equipment downtime, master consumer preferences, track products, and inventory.
3D printing offers a wider range of applications, from mass customization to distributed manufacturing. For example, with 3D printing, parts and products can be stored in virtual inventory as design files and printed on demand when needed, reducing shipping distances and costs.
Autonomous robots are programmed to perform tasks with minimal human intervention. These robots can perform difficult and delicate tasks and recognize, analyze, and act upon information received from their surroundings.
The digital twin is a virtual simulation of a real-world machine, product, process, or system based on IoT sensor data. For example, asset operators can use digital twins to identify specific failing parts, predict potential problems and increase uptime.
Effective cybersecurity is essential with the increased connectivity and use of big data in Industry 4.0. By implementing a zero-trust architecture and technologies, companies can minimize the risk of data breaches and production delays in the network.
WEIPU Connectors solutions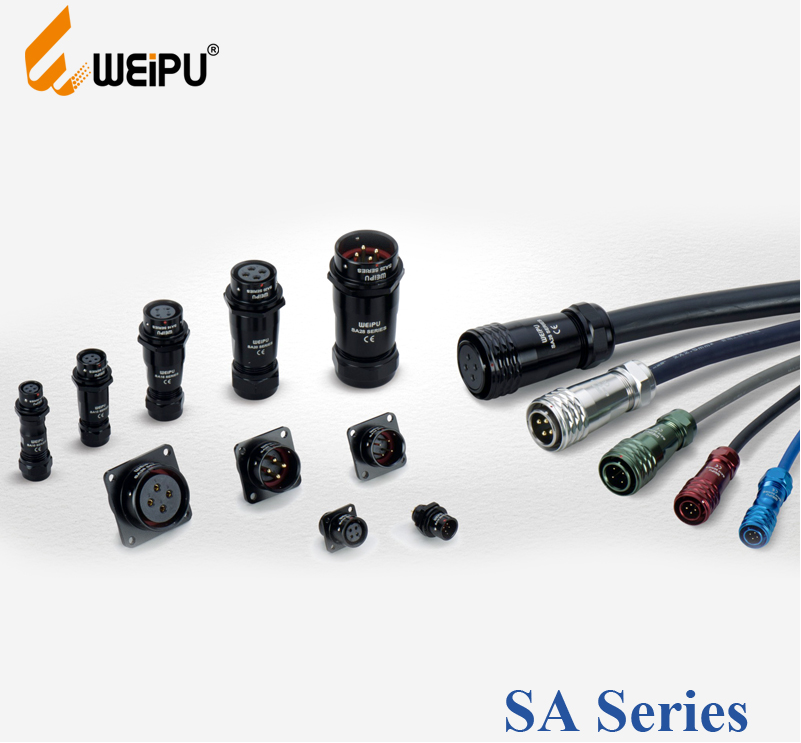 WEIPU is one of the world's largest manufacturers of industrial connectors. As a leader with 25 years of experience in the connector industry, we consistently provide high-quality connector equipment and develop new products to meet customers' needs in different industries.
WEIPU connector products promote electronics development in various end markets, including industrial automation, stage lighting, medical equipment, traffic monitoring, new energy vehicles, and intelligent manufacturing.
Below are the two main types of connector solutions.
Waterproofing Solutions
Since many industrial environments are exposed to water and other materials, waterproofing electronics is critical.
Ruggedized solutions
Industry 4.0 hardware must withstand harsh, corrosive, and other challenging environments.
The SA series is IP67 waterproof connectors designed for the high-end market. The SA series is made of anodized aluminum, which is very lightweight. In addition, the precision of the SA connector is extremely high, and the minimum opening size can reach 6mm, which makes the application space of the connector more flexible.
Check out our full range of products covering the end-to-end needs of Industry 4.0 projects. Contact us.